Not exactly an Epic Ride buy I'll stick it in this section.
Visit to 20th Century Cycles
As some readers might know 20th Century Cycles is actually Billy Joels's motorcycle collection. Maybe a little shy of a hundred bikes are located in a store front in Oyster Bay,LI. Yes, it's an ugly place to get to from South Jersey, that and the time of year are the main reasons everyone (I think) arrived in four wheelers.
20th Century Cycles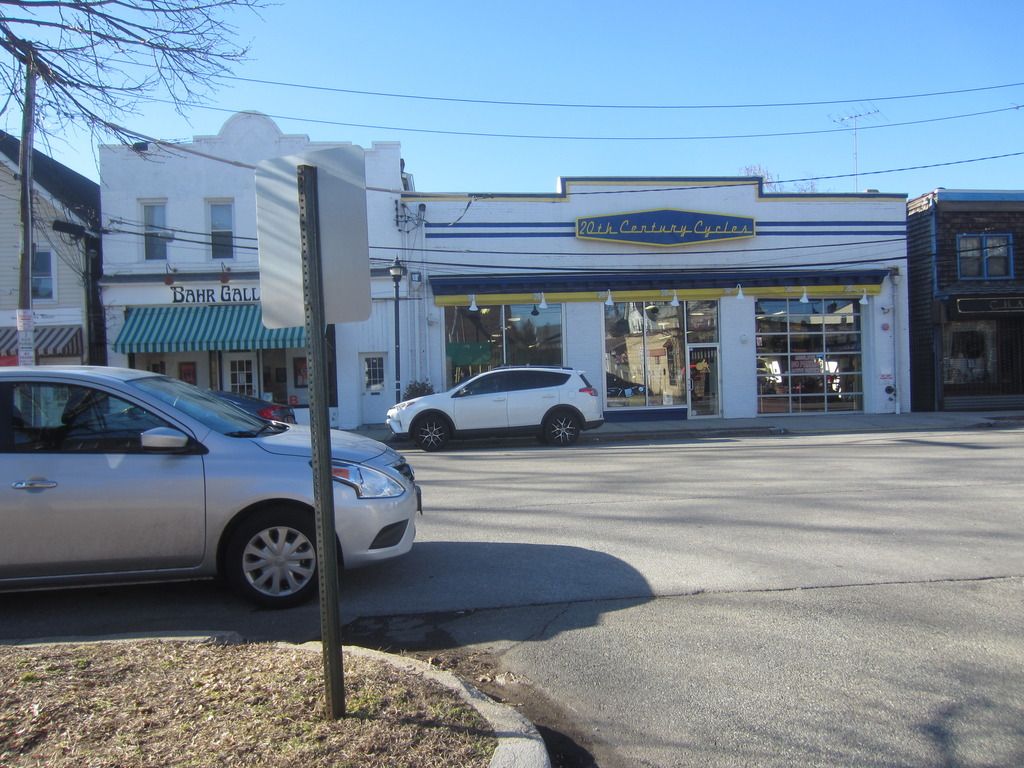 The visit was set up by the New England Moto Guzzi guys and attended by people from the Jersey Moto Guzzi club and I'm sure they called ahead to say a couple of dozen of us were going to show up.. It appears the place is open to the public on the weekends from 11Am to 4Pm so reservations aren't really necessary.. Although the bikes are all neatly displayed in rows and close enough where you can see all the details the building is actually a fully operational motorcycle restoration shop. He has a V35 Guzzi there and I was surprised to see the motor was the same exterior size as the V50, for some reason I thought it would be smaller. Various other non-motorcycle specific items are scattered about the shop that are of interest to your typical motorhead. I noticed a new looking set of Craven side bags under a workbench. The machines range from fully restored to work in progress. I made the initial loop thru the offerings and then started really looking on the second time through. A lot of the bikes that looked kind of stock, on second inspection had quite a few very small but well done modifications. A few bikes that looked like old iron were in fact new stuff that was retro modified and surely would fool the casual observer. Most of the bikes are ready to ride so unlike some museums where the bikes are dry, these bikes are topped off with fluid (not sure about gas) so a few drops of oil can be found here and there. I also noted a small fortune in Battery Tenders humming away doing their job.
The collection is predominantly European stuff with a good sprinkling of Japanese and home grown offerings.
ED:
In the interest of making this more palatable to the BMW purists, the collection contained some airhead BMWs my favorite being a very correct 77 RS in the silver/blue livery.
A General view of the collection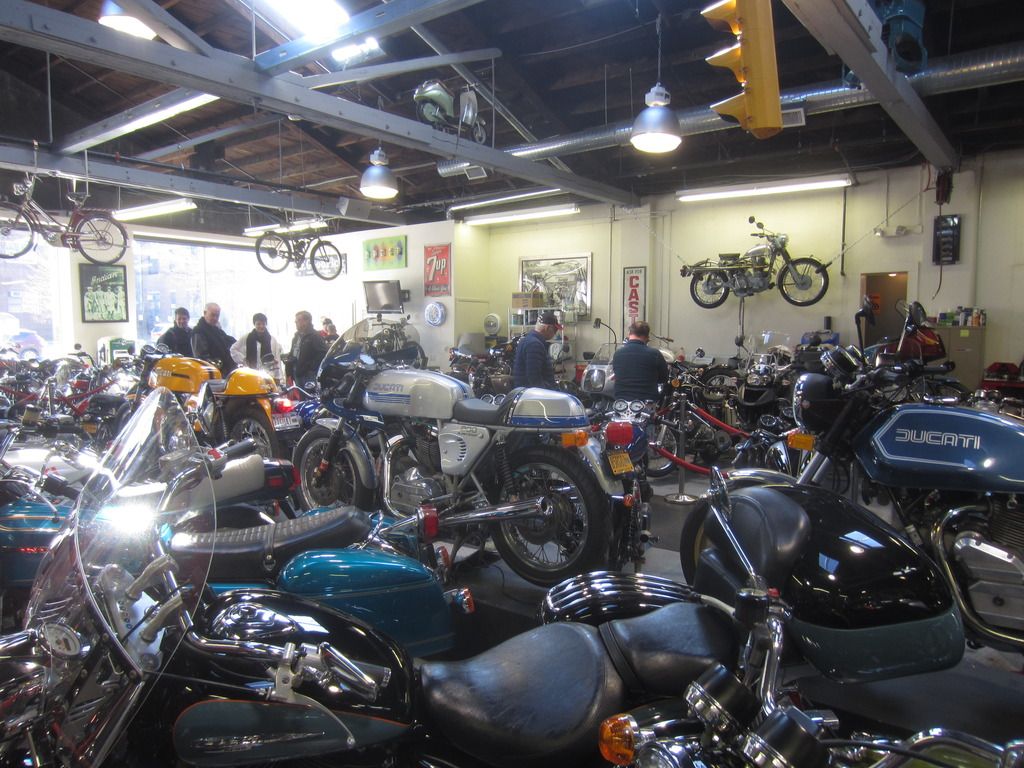 The Bike OCC (Orange County Choppers) made for Billy
Just basically an old school chopper but I'm a sucker for those flathead (side valve) engines.
My favorite bike
What at first appeared to by just another old school Panhead on closer inspection revealed a machine with a dependable power train (SS motor. Baker six speed and belt drive) and enough brakes to be a daily rider that would give years of service.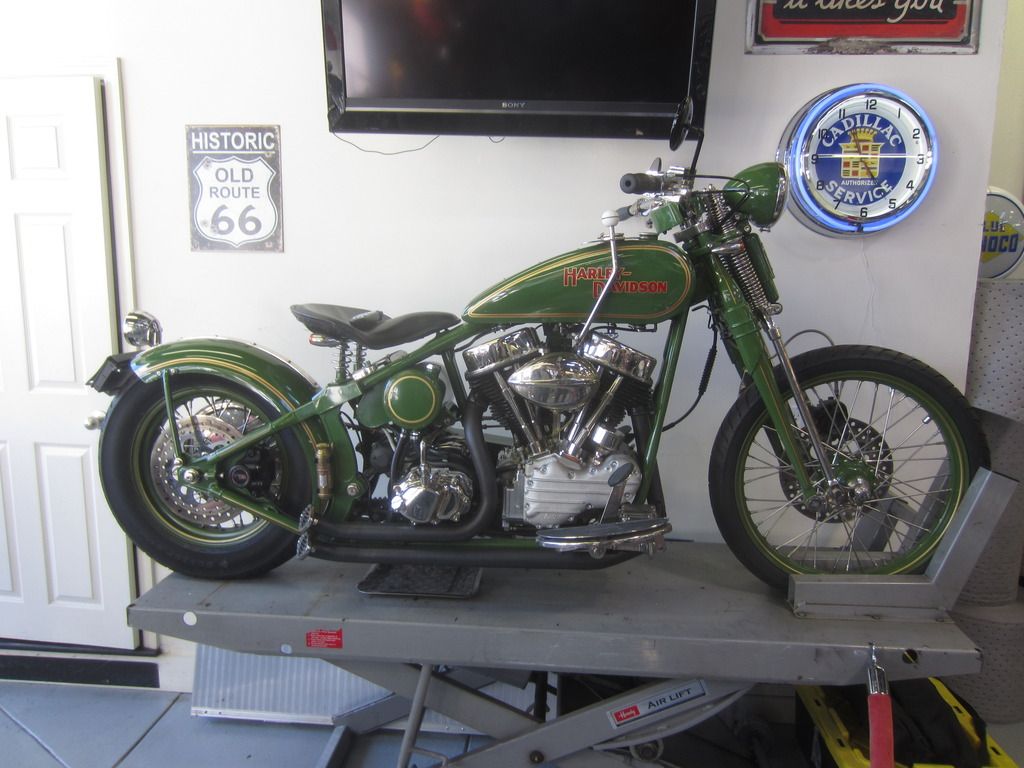 Overall a nice collection, not spectacular (I admit to being just a little snobbish here, although
I personally have nothing to compare with it) but some nice stuff. Lots of cute yuppie eating places and pubs in walking distance and ample parking on the weekend. Definitely worth a visit if for some reason your on the Island. Personally it was worthwhile for me making the trek because I bumped into a bunch of New England people I haven't seen in a while. I'll give it a 6/7 (scale of 10) mostly because of the location.